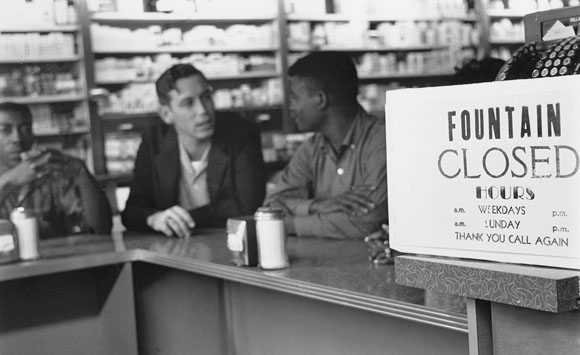 Negro sit-ins on Congress Avenue, April 29, 1960, AS-60-27281-17, Austin American Statesman Photo Morgue, photo by and (c) Austin American-Statesman
Austin American-Statesman Negative Collection
In 1984, the Austin History Center acquired the photographic negatives of the Austin American-Statesman for the time period, 9/26/1958 - 11/1982.The negatives are arranged chronologically and were indexed with handwritten log books. A preliminary inventory for the collection includes transcriptions of the logbooks from 1958-1969. Remaining logbooks are available upon request in the AHC Reading Room. Negatives can only be viewed on-site in the Reading Room. Users will be provided with a lightbox, a loupe and cotton gloves to handle and view the negatives.
The Collection contains only negatives of images shot and developed by Statesman photographers. The Collection does not have any negatives for images credited to the Associated Press (AP). If you are seeking a high quality photograph of an image that appeared in the Statesman and it was shot by Statesman (or UPI) staff, there is a strong chance that we will have the negative.
Copyright of the collection remains with the newspaper. For this reason, permission to publish any image in the collection can only be granted by the Austin American-Statesman. Contact the Photo Archivist to find out how to contact the staff of the Statesman. Note that for an unknown period, the Statesman had an agreement with United Press International (UPI). The agreement provided the Statesman with UPI photographers and photographs. However the copyright status of those images is unclear. Our Negative Collection contains an unknown number of UPI images. UPI's photographic archives were sold to Dr. Otis Bettman and his collections were then purchased by Corbis.