Our website is currently undergoing updates and some information may be temporarily unavailable or inaccurate. Please contact us by phone or email if you have any questions. We apologize for the inconvenience.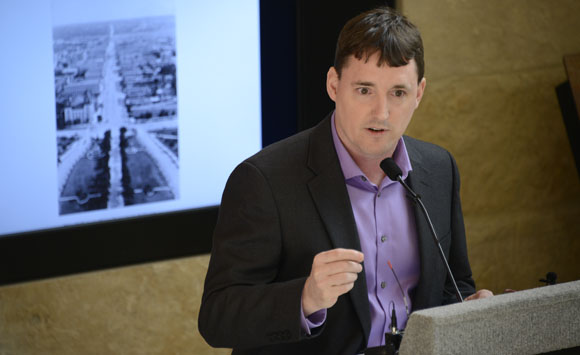 Mike Miller Speaking at a reception at City Hall for the city's 175th birthday, December 9, 2014
Do you have an interest in learning more about how to preserve Austin's history? Are you looking for a potential speaker for your organization's next meeting? Many AHC staff members, schedule permitting, offer presentations to local groups about the Austin History Center and the work we do here. In addition to a general presentation about the Center, staff has developed presentations on the following topics:
African American Genealogical Resources at the AHC
African American History in Travis County
Asian American History in Austin
Austin/Travis County Women's History
Brief tours geared toward youth groups
Divided City: The Civil War & Reconstruction in Austin
Eyewitness to an Emerging Texas: The Governor E. M. Pease Papers
First Chinese Families in Austin
Historic Austin: A Landmark Tour
Historic Movie Houses of Austin
Off the Rails: Austin's Streetcar Era
Preserving Your Archival Treasures
Property Research at the Austin History Center
A Tour Through 19th Century Austin
UT Tower Shooting/ Charles Whitman Mass Murder Case
Please contact us if you would like to request a speaker. We prefer 2-3 months notice for speaker requests, and all are contingent on staff availability.
If the AHC does not have a speaker available for your program, you can try the speakers bureaus for these organizations: