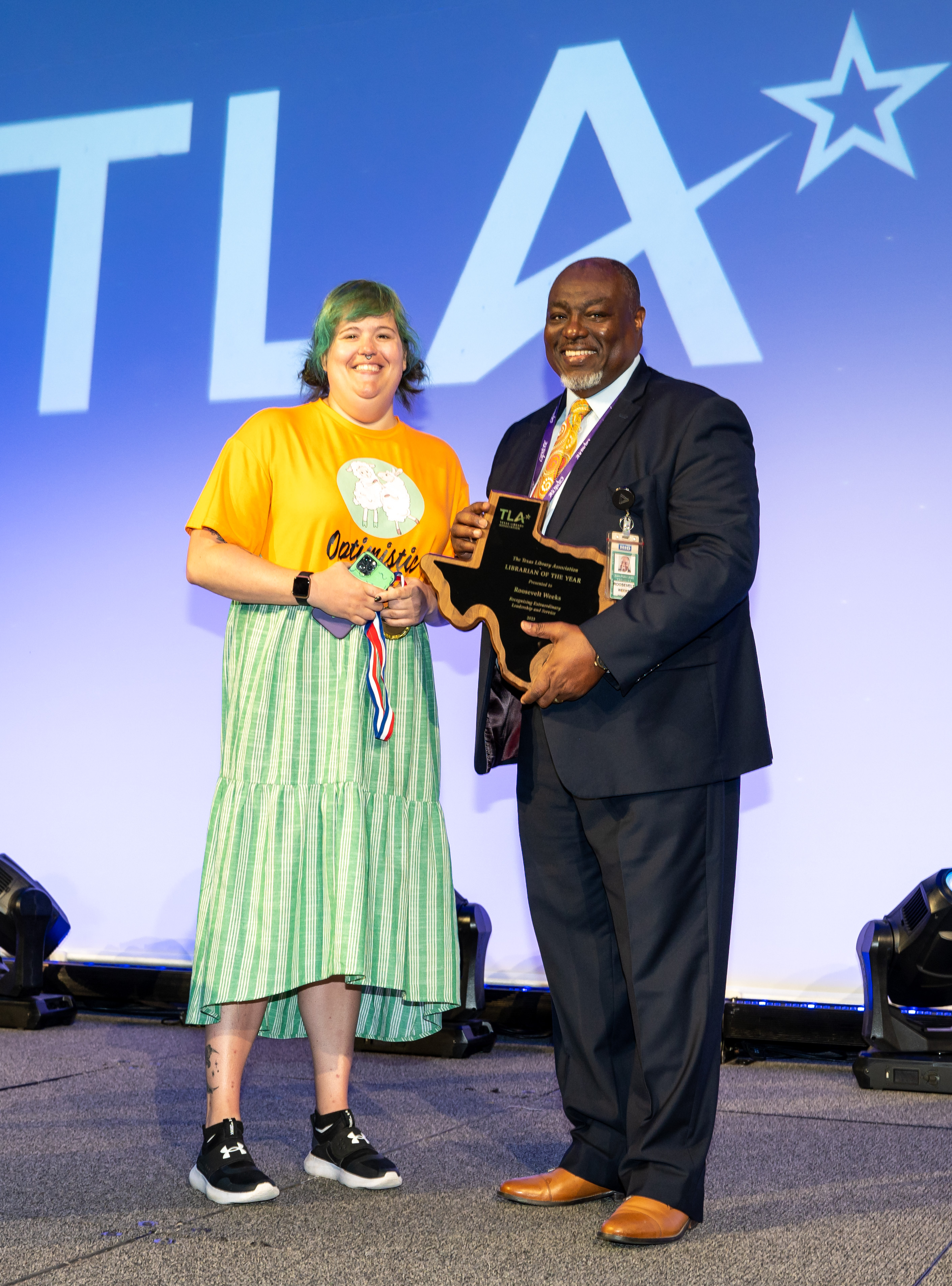 Roosevelt Weeks Wins TLA Librarian of the Year
Austin, TX, April 2023 – Roosevelt Weeks, Director of Libraries for Austin Public Library, won the Librarian of the Year Award at the Texas Library Association 2023 Annual Conference, held in Austin.
The Librarian of the Year Award is given to a librarian who has demonstrated extraordinary leadership and service within the library community over the past 12 – 18 months. Librarians at any stage in their careers, from all library types, are eligible for this award.
Roosevelt is the Representative-at-Large (public libraries) on the TLA Executive Board and is the Vice Chair/Chair-elect of the Urban Library Council. He also serves on the Waterloo Greenway Board of Directors, the University of Texas Library System Advisory Council, the University of North Texas College of Information Board of Advisors, the Texas Book Festival Board of Advisors and other library and literacy boards and committees.
He was integral in leading the movement to pass an Austin City Council ordinance to eliminate overdue fines for Austin Public Library materials returned or renewed past their due date. This change removed an economic barrier for accessing library materials.
Roosevelt led the effort to expand access to Austin Public Library materials for Central Texas students by moving to eliminate the non-resident fee for library cards for any students in Travis County but outside the City of Austin. Additionally, he has worked with school districts in the area to issue student library cards directly to all students.
"I am deeply honored and humbled to have been named Librarian of the Year. It is truly a privilege to serve my community through the power of books and information, and I am grateful for the opportunity to make a positive impact on the lives of those around me. I share this award with my colleagues and library team members, who have been instrumental in helping me achieve this recognition." – Roosevelt Weeks 
For more information, contact: Wendy Woodland, Director of Communications and Advocacy for TLA, at wendyw@txla.org.

About the Texas Library Association
TLA is the largest state library association in the country with approximately 5,000 members who work in public, school, academic, and special libraries and who support educational institutions.