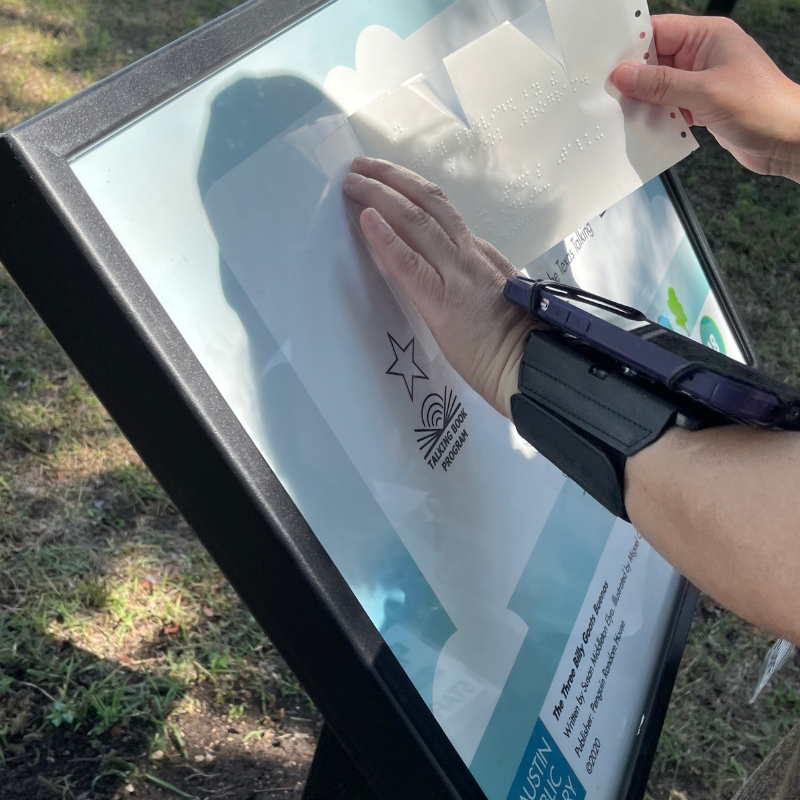 State Library's Talking Book Program and APL Unveil Braille Enhanced StoryWalk
The Texas Talking Book Program and Austin Public Library (APL) have partnered to create an accessible, braille-enhanced StoryWalk® at APL's Windsor Park branch. Now open to the public, the StoryWalk® is located at 5833 Westminster Dr. in Austin.
A StoryWalk® is a permanent installation incorporating a children's story that has been deconstructed, with each page displayed separately along a path for participants to read and enjoy. The APL Windsor Park StoryWalk® tells The Three Billy Goats Buenos story by Susan Middleton Elya.
The Texas Talking Book Program, a division of the Texas State Library and Archives Commission, provided the braille overlay for the Windsor Park location. This feature is placed on top of the permanent StoryWalk® display so that braille-reading visitors can touch and read along. The StoryWalk® is one way for Texans of all ages to combine literacy and learning about the many ways people read.
Sheila Hubertus, Reader's Advisory Librarian with the Talking Book Program, was inspired by the Michigan Talking Book Program. "When I learned what the Michigan program was doing, I thought it sounded like an easy and attainable way to enable everyone to enjoy an outdoor StoryWalk® together—not just sighted individuals," she said.
The Texas Talking Book Program, a regional library of the National Library Service for the Blind and Print Disabled headquartered at the Texas State Library and Archives Commission in Austin, provides free library services for Texans of any age who are blind or have a visual, physical or reading disability. To learn more and apply for the program, visit www.TexasTalkingBooks.org or call 1-800-252-9605.
The StoryWalk® Project was created by Anne Ferguson of Montpelier, VT, and developed in collaboration with the Kellogg-Hubbard Library. Storywalk® is a registered service mark.
The Texas State Library and Archives Commission provides Texans access to the information needed to be informed, productive citizens by preserving the archival record of Texas; enhancing the service
capacity of public, academic and school libraries; assisting public agencies in the maintenance of their records; and meeting the reading needs of Texans with disabilities. For more information, visit www.tsl.texas.gov.