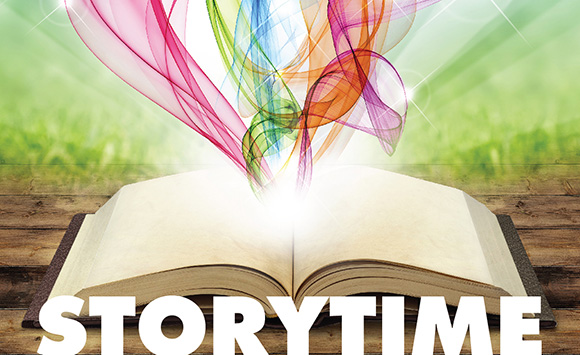 Storytime makes learning fun! Storytimes act as an integral part of early literacy education by introducing young children to books, rhymes, music and other literacy-based activities. Austin Public Library offers programs matched to the typical attention spans and developmental levels of different ages of children.
All Ages Storytime
Storytime for children aged 5 and under and their parents, featuring stories, songs, fingerplays, rhymes, and crafts or other extension activities.
Books and Babies
A lapsit storytime especially for non-walking babies 0-18 months and their caregivers. Very short stories are interspersed with songs, rhymes, and fingerplays for babies and parents. A brief playtime follows.
Cuddle Up and Read
A lap-sit storytime designed for our youngest library users, ages 0-12 months. Together, we will sing, chant, read and play, helping parents incorporate early childhood literacy practices into their daily life.
Daddy and Me Evening Storytime
Young ones and their favorite guy are invited for a special monthly storytime. Together, dads, grandpas, other extraordinary men and their kids will read, sing, craft and laugh, all the while developing important literacy skills and having fun. Children of all ages are welcome (and of course, moms are invited, too!)
Dual Language Storytime - Hora de cuentos en dos idiomas
All ages storytime which uses both English and Spanish to present books, rhymes and songs. It differs from a traditional bilingual storytime in that some material is presented in English while other material is presented in Spanish, allowing for a more natural transition between stories and activities and exposing children to both languages in an inviting environment.
Esta hora de cuentos es para niños y niñas desde bebitos hasta de edad escolar y para sus padres. Se presentaran libros, rimas, y canciones en inglés y en español. Difiere de un programa tradicionalmente bilingüe en que el material no va a ser traducido de un idioma al otro, sino que presentaremos algunas cosas en inglés y otras en español empapando a los niños en los dos idiomas. De esta manera ellos se sentiran cómodos usando los dos idiomas.
Dual Language Storytime - Chinese Mandarin - English
This all-ages storytime uses both Chinese Mandarin and English to present books, rhymes, finger-plays, and songs. Materials are not necessarily translated. The storytime flows naturally using both languages, allowing children to feel comfortable in a multilingual environment. No prior experience with Chinese is necessary to participate in.
Early Literacy Playgroup
Playing is learning! Play is a great way to help develop and reinforce early literacy skills. This come-and-go program is designed to give caregivers and their children time to explore together. Toys, board books, and a weekly craft will be provided.
Lisons Ensemble
Bonjour and welcome to this très special French/English dual language storytime! Join us, s'il vous plait, for stories, songs and crafts in French and English. Children of all ages are welcome.
Music and Movement
Bring your favorite little one to stretch, sing, dance & explore music with rhythm instruments! Program length can vary. Focuses on the Sing and Play recommendations for early literacy which helps develops gross motor skills, listening skills, and social skills, while introducing new vocabulary.
Pajama Storytime
Storytimes held in the evening for children aged 5 and under and their parents, featuring stories, songs, fingerplays, rhymes, and crafts or other extension activities.
Preschool Storytime
Storytime for preschoolers aged 3-5 and their parents featuring stories, songs, fingerplays, rhymes, and crafts or other extension activities.
Toddler Storytime
A storytime program designed for toddlers aged 18 months to 3 years and their parents, featuring stories, songs, fingerplays, and games.
Sensory Storytime
Sensory Storytime features interactive books, singing, and music and will incorporate some sensory activities, like movement and bubbles. This program welcomes children of all abilities to create an inclusive environment. Please talk with presenter prior to program to if you have any questions regarding your child's needs.
Spanish Storytime - Cuentos en español
Storytime presented in Spanish /Una hora de cuentos en español para toda la familia.
Yoga Storytime
Practice your mindfulness, hear a story, and learn more about yoga. No mat is required. / Practique como mantenerse enfocado, escuche un cuento, y aprenda más sobre la práctica de Yoga. No necesita traer un tapete para yoga.
Search the Events Calendar to find a Storytime appropriate for your child with a convenient location.