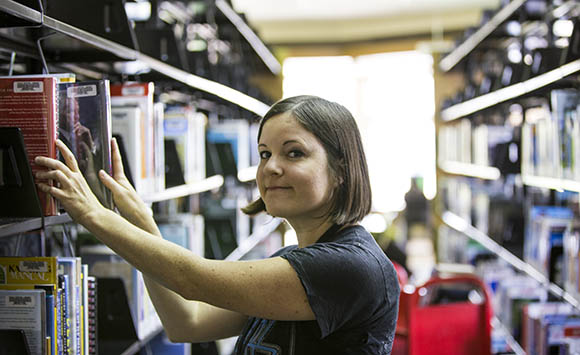 Update: In response to the ongoing COVID-19 pandemic, Austin Public Library has put a hold on the adult volunteer program. The library will not be able to process new on-site volunteer applications until volunteer activities have resumed.
The Austin History Center's Audiovisual archivist is seeking a virtual volunteer to help catalog currently digitized audiovisual collections. The priority collection for cataloging will be the Mocha Jean Herrup Recordings collection, which consists of approximately 40 hours of both edited and raw video footage of a variety of shows, performances and other events by LBGTQ artists in Austin in the mid to late 1990s. You can read more about the collection here (http://legacy.lib.utexas.edu/taro/aushc/00737/ahc-00737.html).
The Audiovisual Cataloging volunteer would be responsible for generating abstracts for each video, determining appropriate LOC subject terms, providing descriptive metadata using the PBCore metadata standard, and generating an XML sidecar file for use with Preservica. While familiarity with PBCore is not required, familiarity with other metadata schema, general cataloging practices, and XML is preferred. The volunteer will be working remotely, so the ability to remotely view or download video files is required. The preferred time commitment is 3 – 5 hours per week.
To apply, please visit our GivePulse site, become a member, and then request to join the Austin Public Library Group. Please note, our facilities are currently closed to the public, we will be accepting volunteer applications for when we have fully reopened, but response times may be slow.
The Adult Volunteer Program is open to those 17 years or older. In order to participate in this program, you must:
Find an current volunteer opportunity that matches your skills and interests.
Be 17 years or older by the date of the application.
Complete an application through the GivePulse site
Complete an additional Community Service Form and/or Accommodation Request Form (if applicable). Email the completed forms as PDF attachments to apl.volunteers@austintexas.gov
Complete an interview with the Location Supervisor/Volunteer Coordinator.
Accept a placement offer. ** Please note: Not all all interviews/applications result in a placement offer.**
Complete a successful background investigation. This includes fingerprinting for applicants who have lived outside the state of Texas within the last 10 years.
Attend mandatory orientation and training.
Commit to volunteering for the required schedule and minimum commitment length for the volunteer position. Most positions require a minimum of 2 hour shift once per week for a minimum of three months. Recycled Reads requires a minimum 4 hour shift once per week for a minimum of six months.
Commit to recording volunteer hours at least monthly into GivePulse the online database for tracking volunteer hours.
What does the criminal background investigation include?
Applicants are asked to complete a criminal background investigation (CBI) based on the requirements of the volunteer position. Applicants fill out a City of Austin Notice and Disclosure Form giving permission for the City of Austin to complete this review. The CBI is processed through the City of Austin's Human Resource Department by reviewing your complete criminal history using records available from the Texas Department of Public Safety. If an applicant has lived outside the state of Texas within the last 10 years, this process will also include fingerprinting. Applicants are directed to schedule an appointment to get fingerprinted at a contracted location. Austin has locations which are open Monday-Friday from 8am-5pm. This process usually takes 5-7 business days but may take 14-21 business days if fingerprinting is included. The Austin Public Library pays for all criminal background investigations and there is no charge to the applicant. Annual criminal background investigations will be conducted without further notice for the duration of the volunteer position.
Who do I contact if I have questions?
Please contact the Volunteer Services Coordinator at 512-974-7443 (or Relay Texas 711) or APL.Volunteers@austintexas.gov with any questions you may have.