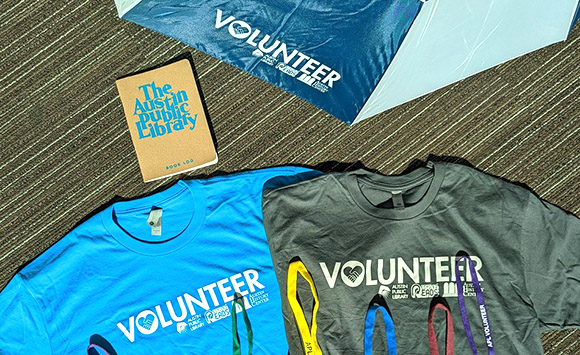 Thank you for being a volunteer at the Austin Public Library!
Please remember to record your volunteer hours on GivePulse. This can be done during your volunteer shift.
As you know, the APL volunteer program went on hiatus from March 2020 to August 2021. Those of you that have returned to volunteering: THANK YOU! Those of you that have not just yet, we understand and hope that you may eventually come back.

All volunteers should have received a library volunteer t-shirt, lanyard, and name tag upon completion of orientation. If you inadvertently were not given one of these items, please reach out to Volunteer Services Coordinator Paul Lopez at 512-974-7443 or APL.volunteers@austintexas.gov.

We do give out additional volunteer milestone lanyards at one year, two years, three years, five years, and ten years. If you have passed any of these volunteer milestones and have not been given an updated lanyard, please also let us know.