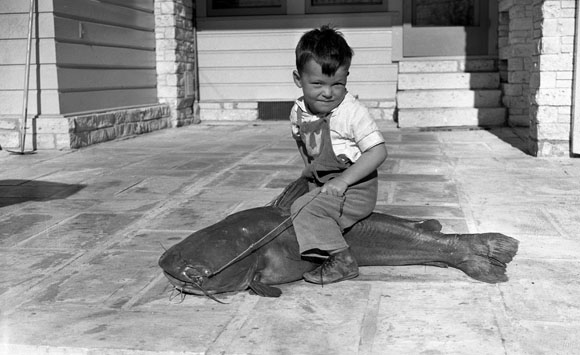 Boy Riding Catfish, April 4, 1941, ND-41-159-01 detail, Neal Douglass Photograph Archive
Neal Douglass Photograph Archive
Neal A. Douglass, Jr. was a news and commercial photographer based in Austin, Texas, active from the late 1930s through the 1960s. He was the first staff photographer for the Austin American-Statesman, originally hired as a journalist but sent to a crash course in photography in 1935 in order to learn the trade. Because the Statesman did not have a darkroom facility, Douglass developed his negatives in his home kitchen with the help of his wife Elnora. Eventually the newspaper's photography staff grew; other photographers working under Douglass included Nolan Borden, Pat Cahill, Ray Child, Harold Gully, Julian Hovey, Bill Malone, Bill Monroe, Charlie Neal, Mike Olive, and Mrs. Joe Jacks who coordinated darkroom activity.
Douglass made an arrangement with the paper that would allow him to run his own commercial photography business alongside the photojournalism work he did for the paper. So in addition to news stories, he would photograph weddings, anniversaries, family reunions, politicians, buildings, car accidents, and other commercial subjects. In 1942, after the U.S. had entered World War II, he volunteered to serve in the Signal Corps of the 7th Service Command. He worked as a photographer, stationed at the Santa Fe building in Dallas. Elnora ran their photography business in Austin while he was away until 1943. After the war he returned to his photography business. He officially left the Statesman in 1954.
The Neal Douglass Photograph Archive was donated to the AHC by his family in 2005. Tens of thousands of photographs by Douglass and his staff from his commercial photography business document Austin's people, businesses, and events from the late 1930s through 1970. A preliminary inventory, covering his work from 1930s-1958, is available online through Texas Archival Resources Online. More than 3,770 photographs from the collection have been digitized and made available through the Portal to Texas History.