Location & Hours
Wednesday:
10:00 am-6:00 pm
Thursday:
10:00 am-6:00 pm
Saturday:
10:00 am-6:00 pm
The Austin History Center building will be closed for interior renovations beginning October 2. We plan to reopen at 10am on Wednesday, November 1, 2023. Please check this webpage for more information.
We are generally open during construction but, for safety reasons, we will close intermittently and sometimes on short notice. We are committed to providing as much access to AHC collections as possible, but access to some parts of our collections may be temporarily inaccessible from time to time. We will respond to reference inquiries as materials are available throughout our construction project. Before your visit, please check Facebook or Instagram, or call 512-974-7385. Our parking lot is closed, so please check this webpage or call for parking updates ahead of your visit. The AHC Reading Room regular hours are Wednesday through Saturday, 10am to 6pm, and Sundays 12pm to 5pm.
---
The Austin History Center's mission is to procure, preserve, present, and provide the historical records that make up Austin's unique story.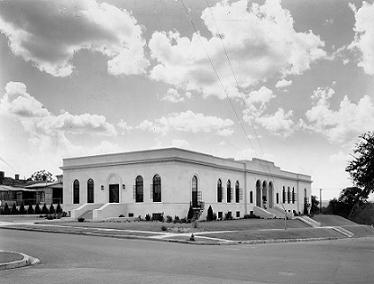 As the local history division of the Austin Public Library, the Austin History Center provides the public with information about the history, current events, and activities of Austin and Travis County. We collect and preserve information about local governments, businesses, residents, institutions, and neighborhoods so that generations to come will have access to our history.
The Austin History Center's rich collections and expert staff support exhibits, programs, and research by the public in our Reading Room.
Watch a video about us to learn more.
Image: PICA 28189