Location & Hours
Wednesday:
10:00 am-6:00 pm
Thursday:
10:00 am-6:00 pm
Saturday:
10:00 am-6:00 pm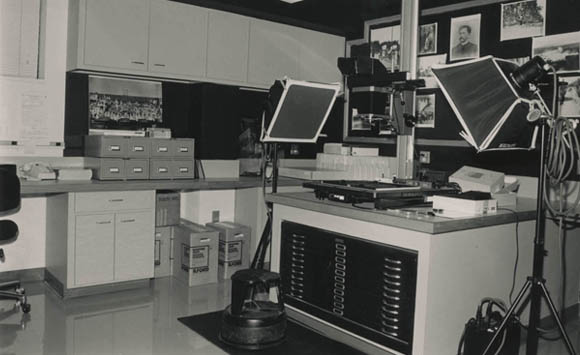 [AHC Photo Lab with 4x5 copy system], 1991, PICA-24875 detail
Upcoming change in services due to October closure: 
Starting on Monday, September 18th, and until October 23rd, we will not be accepting reproduction requests. Please plan accordingly.
---
Thank you for your interest in reproductions of our collection items!
Before You Begin: 
Please note: Due to staff limitations, the turnaround time is about two weeks. Large or complex orders may take longer.
Some of our resources are already available for free and instant download via online databases. To learn more about requesting permissions for these online materials, please see the bottom section of this page.
We also have ready-to-go prints of Favorite Photographs for sale in our reading room.
Reproduction Request Forms
You may use the forms to request any of the following:
Hi-res digital images of collection items

Audiovisual reproductions

Permission to use reproductions for publication and/or display
To submit your form, please send it to Austin History Center Reproduction Orders by email, postal mail (address on form), or in person (during hours that we are open to the public).
Helpful Information for Preparing Requests
Please list applicable fees on the form:
Payment procedures:
We accept payment in the form of a check, or credit card.

 

Institutions can be invoiced.

We can take in-person payments on days that we are open to the public. To run a credit card over the phone, please arrange a time frame for the phone call by contacting the Collections Manager.
Cases for re-submitting a request form:
You must submit a separate form for each new use of a reproduction, even if you have already obtained the image or AV material. Permissions are granted on a case-by-case basis.

Unless you are exempt, you will need to pay

licensing fees

for each new use. If exempt, you would still submit a new form to request permission only.

You do not need to repay reproduction

fees

to reuse images or AV material you have already purchased.
What is already available for download online?
Images for some of our collection items are available for free and instant download at:
If you'd like to use images from these databases for display or publication, you must request permission by submitting a Reproduction Request Form. You may also need to pay licensing fees.
The AHC images in these databases come from our photo lab, and therefore may be approved for publication upon request. The AHC only permits public display or publication of an image if it was produced in our photo lab.  
The AHC Digital Collections database only offers low-resolution (150dpi) images for download. As long as you submit a request form and get permission from the AHC, you may display the images from this database on websites only.  The AHC does not permit the use of low-res images (anything under 300dpi) in print publication, film, performance, broadcast, or public display. 
The Portal to Texas History database offers high-resolution images. If you cannot find a file at 300dpi or higher on the Portal, you must purchase a hi-res file from our photo lab.
Note: You will need to list item numbers on your form to request reproduction permission. Here is how to find an Item # in these databases:
AHC Digital Collections:

The item number is at the top left of the record page, above the "Item Description" section.

The Portal to Texas History:  Scroll down to the "Identifier" field at the bottom of the record page. Remove the "ASPL_" prefix for the item number.
To learn more about how to navigate our collections on these databases, please visit our Online Photo Collections page.