Our website is currently undergoing updates and some information may be temporarily unavailable or inaccurate. Please contact us by phone or email if you have any questions. We apologize for the inconvenience.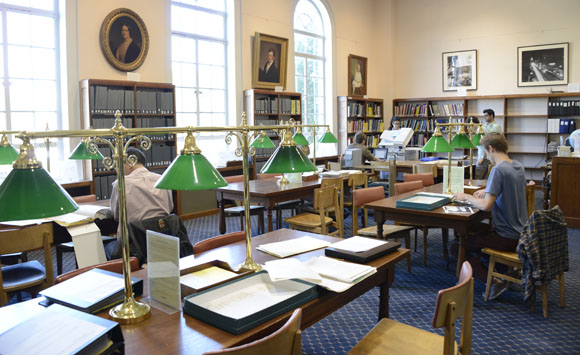 In addition to collecting and preserving the materials that document Austin's unique history, the Austin History Center serves as a research institution where customers can easily and efficiently access those materials for study. Some research using our materials may be accomplished remotely, but most of our resources will have to be viewed on-site. We offer a variety of reference and duplication services to assist you.
Online Research
Subject guides compiled on a range of topics can help pinpoint AHC resources that fit your research needs, and some online databases are available. Here is a guide to using collection finding aids found through our online database. Our Online Collections page will guide you to the portions of our digitized collections which are available online. We also offer a general description of Austin's history. Everything Austin is a collection of links to a variety of Austin-related sites dealing with both historical and contemporary topics. Basic information about preserving your own archival items is also available.
Reference Services
The AHC's Reading Room reopened with reduced capacity on on May 13, 2021. We are open for research on Thursdays and Fridays, 10am-6pm. Limited space is available by appointment and for walk-in researchers. We will also continue to offer expanded remote reference services for those unable to visit us onsite. For more information and to submit a request, please visit our Reference Services page.
Visit Us
If you have used our online tools or worked with a staff member to determine that we have materials that you would like to view in person, please see our information about what to expect from a research visit to the Austin History Center when we reopen to the public.