Location & Hours
Wednesday:
10:00 am-6:00 pm
Thursday:
10:00 am-6:00 pm
Saturday:
10:00 am-6:00 pm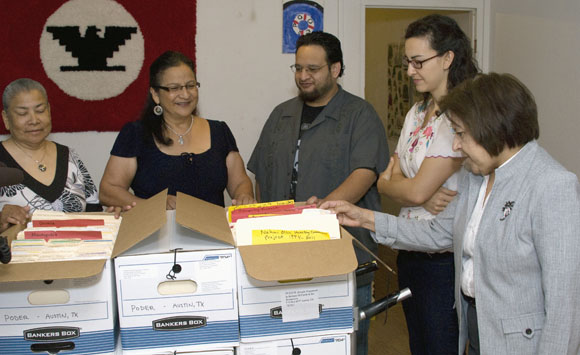 The AHC's Mexican American Community Archivist receiving a donation of the archives of PODER, May 17, 2012
The Austin History Center values the relationships that we build with the community that we serve. As a community-based archive, all aspects of our operation are strengthened by our ties to the people and groups that make up Austin, Texas. We seek out archival materials from historically under-documented communities in Austin and Travis County through outreach efforts and programming as part of our unique Community Archivist program.
AHC staff are also available for presentations on various topics, and tours of our historic building and exhibits are often available upon request.