Location & Hours
Tuesday:
10:00 am-6:00 pm
Wednesday:
10:00 am-6:00 pm
Thursday:
10:00 am-6:00 pm
Saturday:
10:00 am-6:00 pm

Temporary Closure Update
The Austin History Center building will be temporarily closed for interior renovations starting Wednesday, March 29 and continuing through Tuesday, April 25. We plan to reopen at 10am on Wednesday, April 26, 2023.
During this closure, we are committed to providing as much access to AHC collections as possible. AHC staff will be working off-site, and physical collections stored onsite will be inaccessible during this time, but many reference questions can be answered using online resources.
If you have a question, please email us at austin.historycenter@austintexas.gov or leave a voicemail at 512-974-7480. We will respond to all inquiries as soon as possible.
We will not be accepting Reproduction Orders from March 20th through April 24th.
If you need to contact a specific staff member, please use our Staff Directory.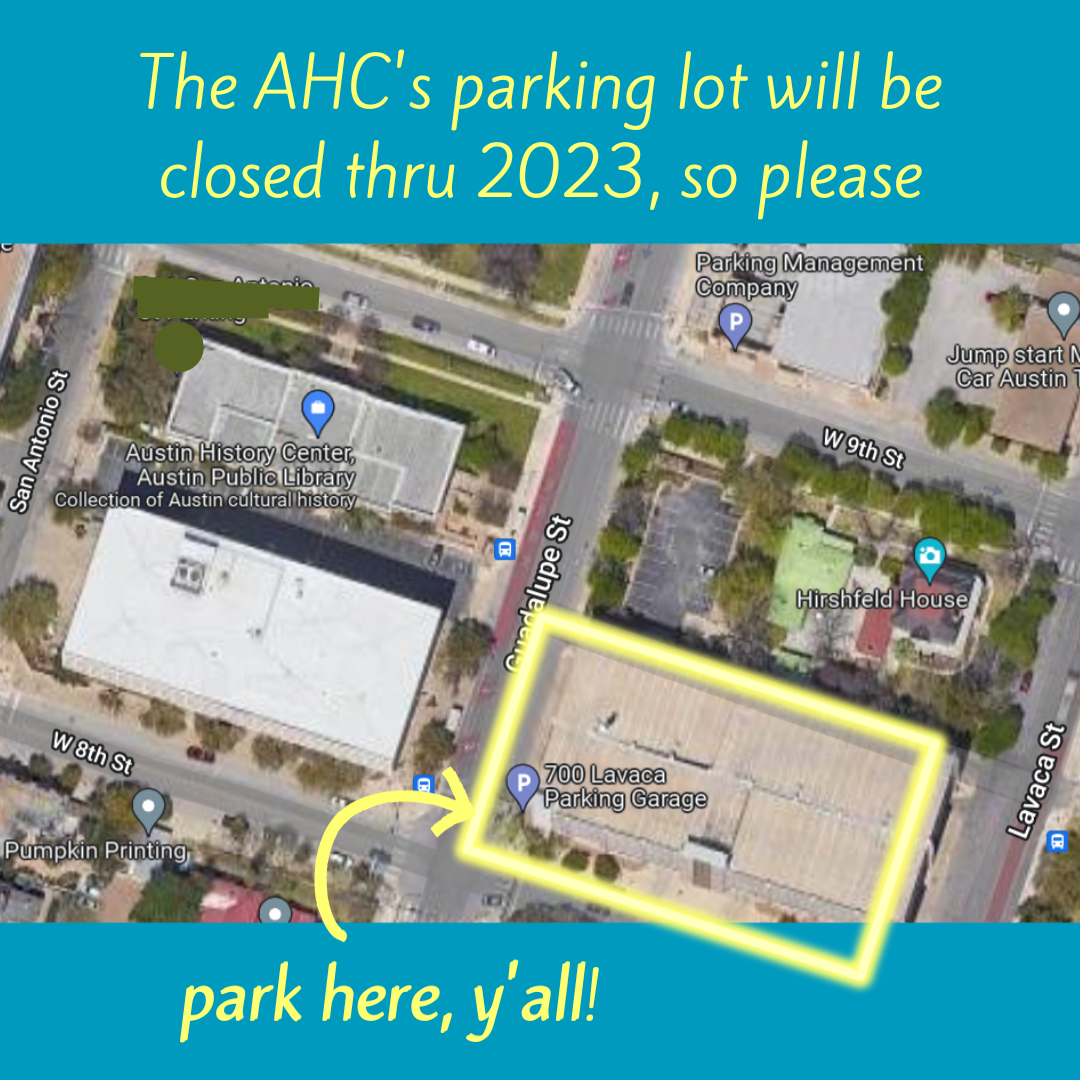 Faulk Building and History Center Renovation Community Update & Notice of Parking Changes
Construction on the Faulk Building and History Center Renovation is anticipated to wrap up at the end of 2023. Check out this report to find out more about the project.
Starting October 25th, 2022, the parking lot between the Austin History Center and the Faulk building (the old main library) will be closed. So for now, when you visit the AHC during the week, please park across the street in the 700 Lavaca parking garage. The only entrance is on Guadalupe (on the left, just before the light at 8th St). Park in any unmarked space and we will give you a validation ticket at the Reference desk. Metered parking is available nearby on weekends and is free on Sundays. Here's to a way better space when it's all over!
---