Backwards in High Heels: Getting Women Elected, 1842-1990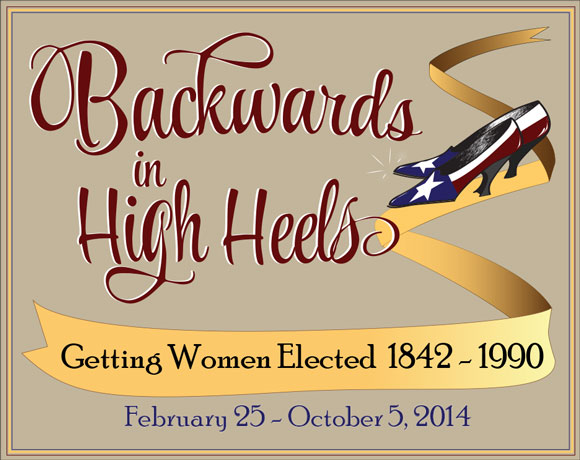 This web exhibit is a companion to the exhibit on view in our galleries. Many more artifacts, photographs,
and manuscript items are on view from February 25-October 5, 2014.
[View of Austin], 1871, PICA 01076, Photograph by H.B. Hillyer.

In this early view of Austin, the old Capitol building used from 1853 to 1881 is visible left of center with a small dark dome.

 

In its earliest days, Austin sat at the edge of the frontier. The first people to settle and build this city had to be made of sterner stuff, including women. Named as the Republic of Texas' capital city in 1839, Austin has long been a political city. But women were not welcome to participate in politics. If women had political opinions, those ideas had to be expressed through their husbands.

Since those early days, though, Austin has had outspoken female residents who voiced their political leanings despite not being able to vote or hold office. In the early 20th century Austin was home to many ardent suffragists, but it was a longer struggle to get women into elected office. Not until mid-century did Austin have its first city councilwoman. It was not until the 1970s that Travis County had female legislators or Austin its first woman mayor. It was only in 1990 that Texas had its first female governor elected in her own right, not as a package deal with her husband.

Though women serving in politics is more commonplace today, the efforts of many brave women over the course of about 150 years helped Austin to become a city where female politicians are accepted. This exhibition explores the stories of these women, especially highlighting those whose collections reside here.
Frontier Justice: Early Political Acts
Emancipation and Participation: Early Office Holders
Local Legitimacy: City Councilwomen
Representation and Responsibility: State Legislators
Ladies of the Club: Texas' First Ladies
Collective Power: Women's Organizations