Location & Hours
Wednesday:
10:00 am-6:00 pm
Thursday:
10:00 am-6:00 pm
Saturday:
10:00 am-6:00 pm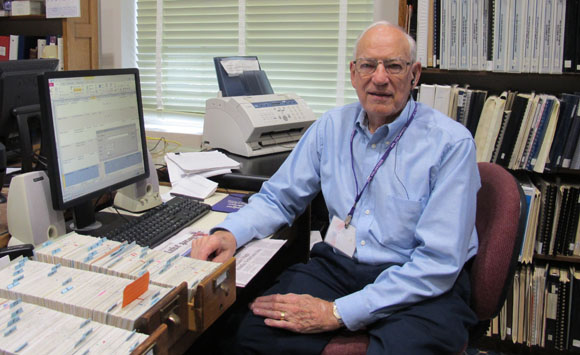 The AHC appreciates and welcomes donations of historical items, volunteer time, and funds.  We also welcome you to consider joining the Austin History Center Association, an independent non-profit organization that supports AHC programs and projects.  Get to know us better at an upcoming event, or 'like' our Facebook page for photos, trivia and contests!
Volunteer
We are also very appreciative of those who volunteer their time and talents to the Austin History Center. For those who choose to contribute to the community by being one of our volunteers, we offer a variety of volunteer positions. Our volunteers do preservation photocopying, data entry, phase box construction, oral history transcription, arranging and describing manuscript collections, map encapsulation, and processing materials to add to the Austin Files, to name just a few tasks.
To volunteer, you will have to complete a APL Volunteer Application found on the Austin Public Library's Volunteer Program page. Austin History Center volunteers are requested to work 2-10 hours per week with a regular schedule for a minimum of 3 months. Hours can be worked during any of the History Center's public hours. 
Available Volunteer Opportunities: 
The Austin History Center does not have any open volunteer positions at this time.
Thank you to all of the volunteers who have contributed their time and effort to the Austin History Center over the years. Take a look at this Volunteer Milestones tracker to see just how many hours have been committed. If you have any additional questions about volunteering with the Austin History Center, contact our Volunteer Coordinator, Kelly Harrell at kelly.harrell@austintexas.gov. 
Donate Items
The vast majority of the collections at the Austin History Center have been donated by many generous individuals and organizations throughout our community. We greatly appreciate such generosity and continue to rely heavily on this support in order to continue building collections for future generations.
If you are interested in making a donation, we require that you fill out and sign a Deed of Gift form. This document formally establishes the transfer of ownership of materials to the AHC. Please fill out as much information as you can including copyright information located on the back of this form. Having the completed form ready when you bring your donation in helps augment the donation process.
Here are some general guidelines for the types of items we collect and for those we do not, either because they fall outside of our collection development policy or due to staffing and space limitations. If you have items that are not included in the list below, please contact us at 512-974-7480 before throwing anything out. We welcome the opportunity to discuss and review your material. If the items in question are not suitable for our collection, we can assist you in finding a more appropriate place for them.
Items of interest
Personal Papers:
Family letters
Diaries or journals
Scrapbook materials, such as programs, invitations, other documentary mementos, obituaries, newspaper clippings
Recorded or written oral history interviews or memoirs
Legal records, such as wills, estate materials, deeds, court records, contracts
Photographs and photo albums
Motion picture film
Organizational Records:
Charters, membership lists, minutes, yearbooks, programs, press releases
Correspondence
Newsletters, brochures
Business Records:
Correspondence
Financial records, such as ledgers, record books, inventories, annual reports
Legal records, such as contracts, deeds, court records
Ephemera, such as flyers, calendars, schedules, posters, menus
Photographs or photo albums
Printed Materials:
Newspaper clippings
Books
Pamphlets
Posters
Broadsides
Maps
Audiovisual materials:
Music on disc, cassette tape, vinyl
Oral history interviews
Video
Artistic materials:
Posters
Drawings
Photographs
Items not suitable for donation:
Information not specific to Austin/Travis County
Blank forms
Duplicates or multiple copies
Family Bibles
Artifacts - clothing, textiles, statues, models, jewelry and other three-dimensional objects
Certain financial records, such as canceled checks and receipts
Old newspapers
Computer manuals
Materials in poor condition, including defaced text or items that show evidence of mold, mildew, pests, significant embrittlement, or disrepair.
Mailers, flyers, invitations, announcements and other advertisements that lack any substantive information about an organization, event or individual(s). In other words, we do not accept items that only list names, times, dates, locations or prices.
Please note that although the AHC reserves the right to decline items that are in very poor or fragile condition, we are more than happy to accept such materials if they have been transferred onto an appropriate archival medium such as acid-free paper or digitized and saved to CD or DVD.
We also ask that you provide appropriate contextual information for the items you are donating in either a list form or printed legibly somewhere on each item including pertinent names (individuals, places, events) dates and titles. Providing contextual information not only saves staff valuable time but also ensures that your donation has maximum research value to our customers.
Support the Austin History Center
The Austin History Center is fortunate to have an engaged support organization, the Austin History Center Association.  The Austin History Center Association is an independent non-profit organization that helps to promote awareness and use of the Austin History Center through receptions, programs, the annual Angelina Eberly luncheon, tours, newsletters, and the publications of Waterloo Press.  When possible, the Association raises funds for the Austin History Center to contribute to special acquisitions and endeavors.  For information about membership and activities, please see the Association's website.