[Anderson High School Drum Majorettes], 1957, PICA 29934 detail
African American Community Archivist
The Austin History Center's African American Community Archivist actively seeks out archival materials from the African American community in Austin and Travis County through outreach efforts and programming. The Community Archivist also gives presentations, conducts oral history interviews, coordinates programs and events, provides reference service to the public and acts as a subject specialist in the history of Austin's African American community.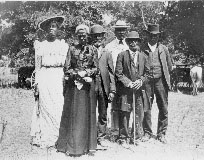 Emancipation Day Celebration, June 19, 1900
PICA 05476
Sources of Information About African Americans in Austin
Desegregation in Austin: Five Decades of Social Change
This web project presents an annotated chronology of major events in the desegregation of Austin, Texas, from 1940 to 1980 as they appeared in local newspapers and other materials in the archives at the Austin History Center. The timeline is intended as a guide to key events necessary for an understanding of this extraordinary time in the city's history.
Take our Austin African American History Quiz
Brush up on your knowledge of African American history. All of the answers can be found on this site.
One-minute vignettes depicting the stories of African Americans and the communities they built. Vignette topics highlight the events, places and people that characterize Black Austin, using historic photographs and documents from the archival holdings at the Austin History Center.
Austin's Freedmen Communities Map
The AHC created this map of Austin's Freedmen Communities. The map, using a historic map from the collection as the base map and information gathered from multiple sources, shows the locations and approximate boundaries of the various freemen communities that sprang up after the Civil War.
African American Subject Guide (PDF download)
The collections of the Austin History Center contain many useful materials that document the contributions of African Americans to our community's history. These were compiled into the African American Resource Guide, which is designed to be a starting point for your research on African Americans in Austin
Please note that at the end of the complete bibliography is a section of topics on which the Austin History Center seeks more information and materials.

1864 Slave Deed from The Black Papers, FP B1