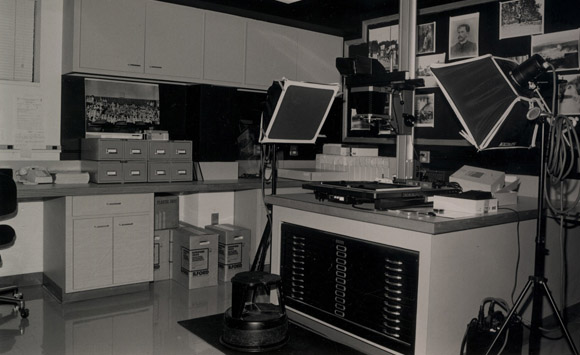 [AHC Photo Lab with 4x5 copy system], 1991, PICA 24875 detail
Reproductions of photographs and video can be handled by mail or in person.
If you have any questions about ordering reproductions please call our reference desk at 512-974-7480 or use our contact form.
To order reproductions:
Use the Reproduction Order Form to place reproduction orders and to request permission to publish or display images. Before you access this pdf file you will be asked to read and accept our reproduction policies and procedures. Policies and Procedures can also be downloaded here.
Use the Reproduction Price List to determine scanning and video reproduction fees.
Use the Fee List for Publication or Display of AHC materials to determine licensing fees. See document for exemptions.
Full payment in the form or a check, purchase order, credit card, or cash (if ordering in person) must accompany all orders. Institutions can be invoiced.
Please add a shipping fee of $5.00 if the order will be mailed.
Include 8.25% sales tax for all Texas residents.
Orders will generally be completed within 2 weeks.
The order form can be mailed, submitted in person or emailed to the Imaging Archivist.
Are you ordering a photo you found on the Portal to Texas History? You'll need to include our image ID number on the order form. To find the image ID number on the Portal: click on the image you want from the search results. Scroll down to the "What" section of the image record (or click on "What" in the sidebar) and look for the "Identifier" field. Our image ID number follows "Accession or Local Control No."