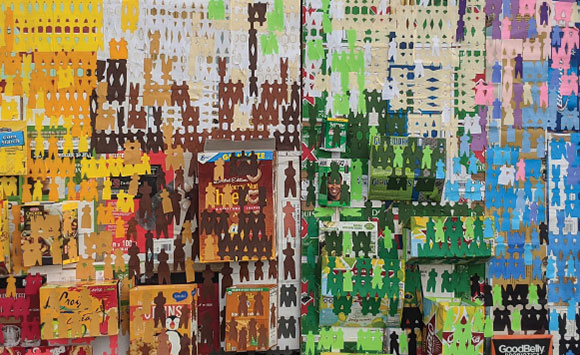 Canceled-Postponed-Rescheduled
Akirash
schedule
Monday, August 9, 2021 - Friday, September 10, 2021
placeCentral Library - 710 W. César Chávez St.
Gallery (2nd Floor)
About the Exhibit
Canceled-Postponed-Rescheduled
FAGILEE-SIWAJU-TUNTO
There is a saying that hunger is the root of many problems. If we can solve hunger, other solutions will follow. The Covid-19 pandemic highlighted the fragility of our food system, leaving many food insecure for the first time in their lives, and deepening the problem for many others already living on the edge.
As many were doing around the world, I started helping elderly, mobility challenged, and unhoused people get groceries. As I ordered online to have food delivered, I encountered a deluge of boxes and food packaging.
I started collecting the food boxes in my studio. As I watched the piles build, I decided to use them to create an artwork to speak to the moments of this past year:  the encounters, the struggles, disappointments, and successes. To speak to the ghostliness of empty streets and stores, and the moments of grace and gratefulness for one's blessings, even though we were all afraid of what might happen next.
As I built these mini grocery stores, I thought of the relationships we build and how covid is pulling them down brick by brick. I thought of the hands and souls have touched the packages and mourned some of them who passed.
The colors were arranged to invoke the ceaseless news and information flow on social media and the internet; the day-to-day report on the progress of finding a cure, how many people are affected, infected, surviving or dying all around the world, and the statistics of economies failing.
Finally, our prayers are answered. With hope, confidence, perseverance, belief, trust, and togetherness we have done it. The cure is here. I have received mine. What about you? Let us all do our part to keep our communities and families safe.
Opening Reception - Saturday, August 14, 2 – 4 PM 
About the Artist
Akirash was born in Lagos, Nigeria. He earned his first BSC degree in BIOCHEMISTRY from the Federal University of Agriculture Abeokuta Nigeria (1991), going on to study Fine and Applied Art at Institute of Textile Technology Art & Design Lagos (1995). He now lives and works between Lagos and Austin Texas.
Akirash is a recipient of TEMPO 21 City of Austin 2021, Red bull Arts, CERF+ 2020, Foundation for contemporary arts emergency grants 2019 & 2020, The Otis & Velma Davis Dozier Travel Grant Award From DMA 2019, TEMPO 19 City of Austin 2019, E 51st Art in public space Commission 2019, the CORE Funding from Cultural Art Division Austin 2018, the Innovative Artist Award from Mid America Artist Alliance (MAAA / NEA) for 2017, Pollock Krasner Foundation Award 2016/17 & 2011, Cultural Initiative & Capacity Building Grant, Culture Alive Austin 2016/17, The Santo Foundation grant 2015, and The Commonwealth Connection Award UK 2011.