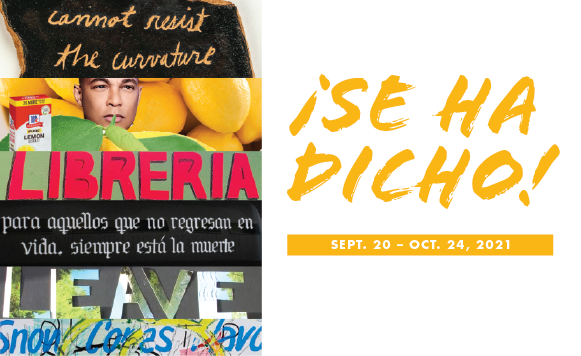 ¡Se Ha Dicho! (It has been said)
schedule
Monday, September 20, 2021 - Sunday, October 24, 2021
placeCentral Library - 710 W. César Chávez St.
Gallery (2nd Floor)
About the Exhibit
¡Se Ha Dicho! explores the power of words in art and everyday lives of Hispanic and Latinx communities, whether emulating the rallying speech of a community organizer, the soothing rhythm of a lullaby shared from mother to daughter, or an astute connection scribbled in the margins of a book. The work presented here is a celebration of the power of a community with deep and diverse stories to tell, as we live with the daily-learned lesson of just how much words matter.
Artists: Cande Aguilar, Julia Barbosa Landois, Paco Castro, Christian Cruz, Ulyses Cueto, Veronica Gaona, Evelyn Gonzalez, Suzy Gonzalez, Siri Gurudev, Rafael Fernando Gutierrez, Barbara Miñarro, Monica Teresa Ortiz, Alexandra Robinson, Miguel Rodriguez, Alán Serna, Jesus Valles. Exhibit curated by Michael Anthony Garcia.
This project is supported by the Cultural Arts Division of the City of Austin Economic Development Department.
About the Artist