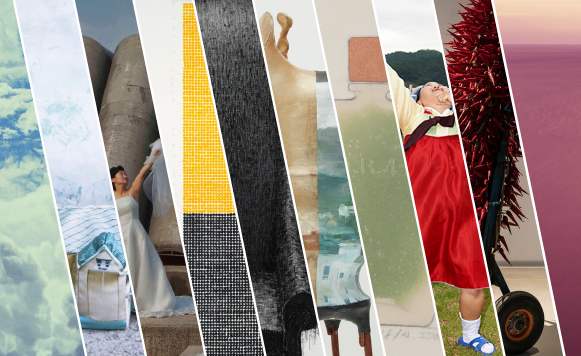 Deeper East
schedule
Sunday, April 24, 2022 - Monday, June 6, 2022
placeCentral Library - 710 W. César Chávez St.
Gallery (2nd Floor)
About the Exhibit
PART ONE
April 24 – May 14, 2022 | Artists of Seoul, Korea HONG soun   –   erin CHON   –   BYUN soonchoel   –   sangdon KIM   –   youngjoo CHO
PART TWO
May 17 – June 6, 2022 | Artists of Gwangju, Korea KIM sangyeon   –   KANG un   –   PARK il-ku   –   AN hee-jeong   –   JEONG jeong ha
Paired with "Wider West", the "Deeper East" exhibition was launched as an international intercity art exhibition program in 2018 by a Texas-based art consultancy, Shine Here. "Deeper East" introduces artists in Asian cities to Western cities while "Wider West" represents artists in Western cities to Asian cities.
In 2019, "Wider West" was held in Seoul showcasing eight artists from Texas, and "Deeper East" in Austin, a paired exhibition was postponed to 2022 due to a worldwide pandemic. The first part of "Deeper East" is a long-delayed paired exhibition from 2019 for five artists in Seoul, and the second part for five artists in Gwangju, South Korea. The next "Wider West'' (dates TBD) will be held in Gwangju—a culturally enriched city in Joella-do, a southern province in South Korea.
A major advantage of virtual/digital exhibitions hosted by Shine Here is that it is very cost-efficient compared to traditional art exhibitions. These digital exhibitions are not meant to replace the existing format of an exhibition but rather to introduce more culturally diverse artists to the international stage in a more economical way.
Artists were selected from a list of recommendations from Shine Here's panel of art professionals and affiliated partners in Korea. In most cases, each artist showcases a total of 20-25 pieces that are edited together.
Closing Reception 
May 28, 2022, 2 – 3 PM | Dance Performance janet PARK
About the Artist