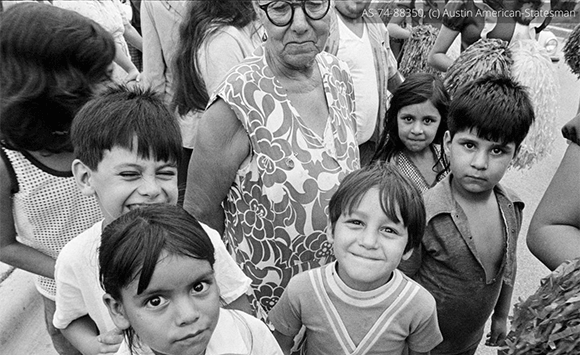 Above and Beyond the Fold: Finding Community in the Austin American-Statesman
schedule
Tuesday, September 13, 2022 - Tuesday, June 13, 2023
place
Central Library - 710 W. César Chávez St.
About the Exhibit
4th Floor - Above Computers on West Wall
Above and Beyond the Fold: Finding Community in Austin American-Statesman presents a selection of photographs which uplift narratives of pride, laughter, and building intergenerational community within Austin's communities of color. All images were produced as part of the ongoing project, "Communities of Color in the Austin American-Statesman Photo Morgue: A Digitization Survey." The Austin American-Statesman Photographic Morgue Collection (AR.2014.039) contains hundreds of thousands of negatives taken by staff photographers between 1958 and 1982. The survey aims to digitize thousands of negatives documenting Austin's African American, Latinx, and Asian Pacific American communities. This initiative is funded by a TexTreasures Grant made possible by the Institute of Museum and Library Services and the Texas State Library and Archives Commission.
About the Artist