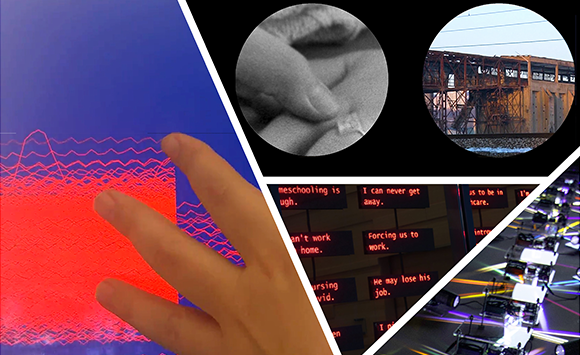 Beyond City to City: A UNESCO Media Arts Exhibition
schedule
Monday, March 13, 2023 - Tuesday, May 23, 2023
placeCentral Library - 710 W. César Chávez St.
Gallery (2nd Floor)
About the Exhibit
PANEL + OPENING RECEPTION | Friday, April 7, 2023 at 6 PM - 9 PM in the 2nd floor gallery
BEYOND CITY TO CITY is an international multi-media exhibition produced by the Austin City of Media Arts UNESCO Steering Committee and the City of Austin's Economic Development Department. BEYOND CITY TO CITY features 9 media artists representing cities around the globe including: China (Changsha), England (York), Germany (Karlsruhe), Slovakia (Košice), and the United States (Austin).
As we grappled with the uncertainties and isolation of the past few years, an emergence of collaborative digital art took shape. Through the lens of a specific place or on a global scale, this exhibit aims to share speculative visions of future connectivity through the lens of media art and artists.
From audiovisual projections to immersive interactive pieces, BEYOND CITY TO CITY will showcase an innovative, exciting, and unique exhibition that is both free and open to the public to attend.
About the Artist
WORK  BY  
ARCOS, Told-Hold (Austin, USA) 
Meiyan Chen, Told-Hold (Karlsruhe, Germany)
Nick Harbaugh, ReConnected: A Collective Poem (Austin, USA) 
Mišo Hudák, Born & Raised, (Košice, Slovakia) 
Faiza Kracheni, Born & Raised (Austin, USA) 
Taeheon Lee, Told-Hold (York, England)
Lauren Malkani, ReConnected: A Collective Poem (Austin, USA) 
Liz Rodda, Margin of Error (Austin, USA)
Biin Shen, Margin of Error (Changsha, China)
Lisa B. Woods, Islands (Austin, USA)