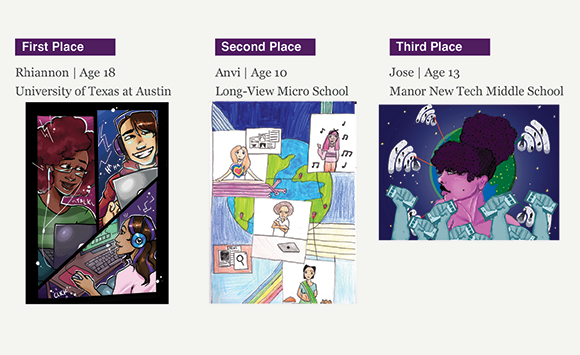 Digital Inclusion Week 2023 Art Competition
schedule
Wednesday, March 8, 2023 - Saturday, September 30, 2023
About the Exhibit
The Community Technology division of the City of Austin hosts an annual art competition in celebration of Digital Inclusion week each year. Youth 10-18 residing in Austin submit art works responsive to themes relating to digital inclusion. Three winners are selected each year. The three 2022 winners are above.
Submissions are always open! Awards are announced in October each year. Applicants must be 10-18 and reside in Austin, Texas. Full details and submission portal.
The winning poster exhibition is in the tween area of the youth center, exhibition runs through April 30, 2023.
About the Artist