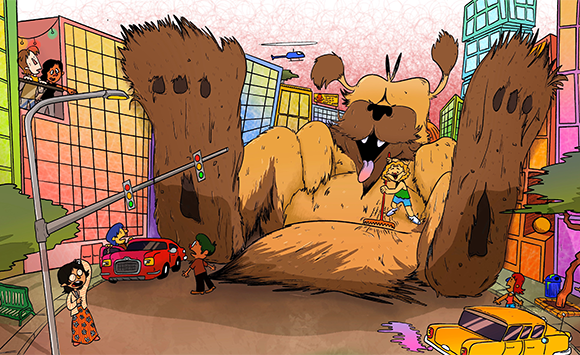 Imagined Worlds
Julio Moreno
schedule
Tuesday, August 8, 2023 - Monday, October 16, 2023
placeCentral Library - 710 W. César Chávez St.
Living Room (6th Floor)
About the Exhibit
This exhibit showcases Julio Moreno's diverse portfolio, including artistic and design-focused work, especially featuring his illustrations in collaboration with author Doug Dixon on the following children's picture books: Don't You Mind! My Waistline; Don't You Mind! My Hairline; The Amazing Mr. Pickle Pop; and Johnny Da Kota's Off-Road Adventure.  Moreno's artistic style is reminiscent of classic children's books and television, but with his unique flair. His use of bold colors and whimsical characters captures the essence of childhood wonder and imagination, while his attention to detail creates an immersive experience for readers of all ages. Come and explore the world of Moreno's playful and joyous creations.  
(All art and text in the children's picture books is Copyright 2022/2023 Douglas Dixon, and may be used only by permission.  All Rights Reserved.)
About the Artist
Julio Moreno is a designer and artist born and raised in Brownsville, Texas. Moreno developed his unique nostalgic art style, blending modern techniques and a classic aesthetic, while completing his degree at the University of Texas' School of Design. His work is colorful, imaginative, and full of character, captivating young readers and adults alike. Austin-based author Doug Dixon, originally from Evansville, Indiana, has worked with Moreno, as both seek to inspire and delight children, while fostering a love of reading and creativity. Contact with Julio Moreno can be made at his instagram account, @texasbebop.
Contact information to acquire art or children's picture books associated with this exhibit can only be found through email at dad.daddyo@aol.com or doug.dixon78758@gmail.com.