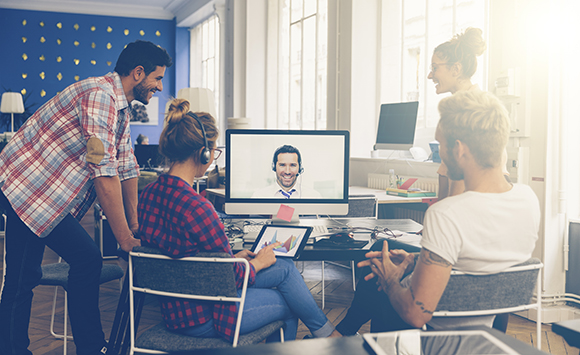 Library videoconferencing technology makes connectivity easier and more accessible for a range of remote communication needs in the Austin community:
civic engagement
military families
community organizations
small start-up businesses
connect homebound individuals to community meetings held at libraries
Videoconferencing technology at the Austin Public Library is made possible by grant funding from Google with the support of The Library Foundation.
Videoconferencing Guidelines
Videoconferencing at the Library is optimized for no more than four people in the room with the exception of the Central Library which has rooms that can accommodate videoconferencing for up to 10 people.
Customers who wish to utilize the videoconferencing tools should be familiar with using the internet, email, Google Hangouts and audio/visual tools such as webcams, microphones and speakers.
Library staff will assist customers with starting a videoconferencing meeting using the Chromebox for Meetings videoconferencing equipment, but will not provide technical assistance or troubleshooting for devices outside the Library.
Sign Up to Use Videoconferencing
To utilize APL's videoconferencing technology, call any Austin Public Library location and ask to speak to the meeting room administrator.
Remote General Citizen Communication
Austinites have asked that the City make it easier for individuals to participate in council meetings. Time is set aside at 12 noon at each council meeting for a maximum of 10 individuals to address the council on topics of their choice. For those unable to travel to City Hall, videoconferencing for Remote Citizen Communication is available at all Austin Public Library locations, except at the Central Library which is in the district where City Hall is located. City Hall will remain the District 9 Citizen Communications venue.
You must register in advance with the City Clerk's Office by phone 512-974-2210 or by email. You must also make a videoconferencing equipment reservation at one of these Library locations.
For more information about General Citizen Communication visit austintexas.gov/department/citizen-participation-council-meetings.