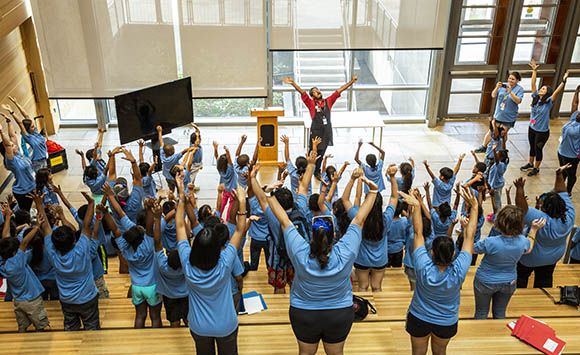 Central Library Tours and Group Visits
Self-Guided Tours
Tour the Central Library in person or check out the virtual tour.
Public Tours
Use our Group Library Visit Request Form or call 512-974-7400 to schedule a field trip or group visit. Tour length varies based on the topic.
Tours for Adults
For adult groups, please contact us at least two weeks in advance to request one of the following types of visits. We can combine or customize as needed.
Building Tours (45-60 minutes): Hosted by volunteers. Schedule a walkthrough of the Central Library. We briefly mention the types of materials on each floor and services offered.
Finding books/Using the online catalog (30-45 Minutes): A librarian will provide an overview of our online catalog including the Virtual Library —downloadable eBooks and eAudiobooks, digital magazines and streaming music and movies.
Research Workshop (45-60 Minutes): A research workshop is an opportunity for your group to meet with a librarian and learn about our databases in our 15–seat computer lab. If your group has a specific research topic, we will focus on databases that best meet your needs for finding journal articles, primary resources and other scholarly materials.
Youth Field Trips
The Central Library is a great place for school or youth organization field trips! During your visit, staff welcomes your group and tells you a little about the library, and then your group can explore the Children's or Teen Areas. After this, your group may then explore the rest of the library on your own as best fits your interests and available time. Please schedule a youth field trip at least one week in advance (or sooner, for best availability). For more information about field trips, visit the Central Library Field Trips Information Guide.