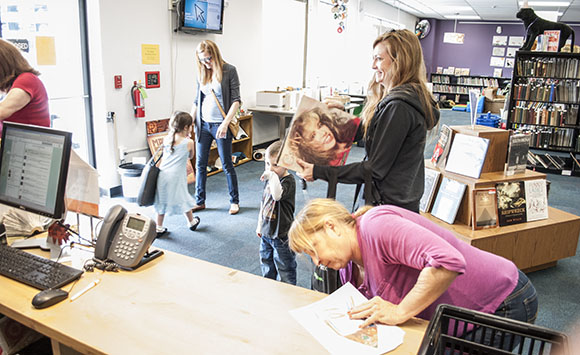 Since opening its doors in 2009, the Recycled Reads program has accepted Library discards from the Austin Public Library's 20 circulating locations, the Faulk Central Library and the Austin History Center. In addition to discards from the City of Austin, Recycled Reads accepts books and media donations from the Austin community. This means that material moves through our 7,000 square foot facility fast. For the most part, books and media are priced to sell, ranging from fifty-cents to $2.00 each. Still, many books just aren't in the condition to sell: Damage and age are two of the most common reasons a book won't sell.
Recycled Reads has a small staff and greatly relies on the service of volunteers. From accepting and sorting incoming donations, to shelving and organizing material to upcycled crafting, our volunteers play a big role in the entire operation.
Becoming one of Austin's main book recyclers was an unintended outcome of this endeavor, but recycling books and media and helping Austin push toward its zero waste goals is now a main facet of the mission of Recycled Reads. Recycled Reads regularly hosts events for adults and children, and staff and volunteers are always happy to help you figure out what to read (or listen to!) next. Want to know more? Check out the FAQ.