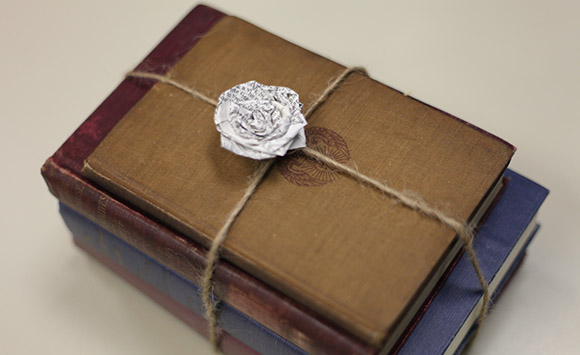 Frequently Asked Questions
Is Recycled Reads a book store or a Library branch?
Recycled Reads is the Austin Public Library's Book Store. Books and media that are taken out of circulation from the Austin Public Library (a process called weeding) are taken to Recycled Reads to be sold back to the community in support of the Library. We also sell books and media donated by the public. For more about Recycled Reads' history and links to related news clippings, check out the About Us section. We regularly offer programming for adults and children, much of it centering around principles of reducing, reusing and recycling in support of the City of Austin's Zero Waste Initiative. We work to keep the store organized like a library and staff and volunteers alike are happy to help you figure out what to read (or listen to!) next.
What is weeding?
Weeding is a term used in the library world to describe the removal of books and media from a collection. When library material is damaged, outdated or simply not being used, library staff must make decisions to cull the collection to make room for new material or more community space in a library. Libraries used many different guidelines for determining what should be weeded from their collections. In 2014, we completed a project partially funded by an IMLS Sparks! Ignition Grant for Libraries to encourage libraries to adopt more sustainable weeding and disposal practices in a project called, Sprouting Green Weeding Practices Web-Based Training.
How much does everything cost?
Recycled Reads has a large and fluctuating inventory of books and media: Fiction and non-fiction for all ages, yearbooks, Texana, ephemera and various collectible titles. The table below lists prices for regularly priced items.
| | |
| --- | --- |
| Adult hardcover books | $2.00 |
| Adult paperback books | $1.00 |
| Children's books (picture books through Young Adult) | $0.50 |
| CDs, DVDs, Books on CD | $1.00 |
| Records | $0.50 |
| Audio cassettes, Books on cassette | $0.50 |
Can I pay with a card?
Recycled Reads accepts all major credit cards, checks, cash and Recycled Reads gift certificates.
Tell me more about the Recycled Reads Gift Certificate.
Recycled Reads sells gift certificates starting at $5 and going up to $50. With most hardcover books priced at $2, paperback books at $1 and children's books at fifty-cents, a gift certificate to Recycled Reads goes a long way. Our gift certificates can be used to purchase anything for sale in the store and they never expire!
We have found that teachers and literary-minded nonprofit organizations really benefit from Recycled Reads Gift Certificates. When building a classroom library or collecting media with a specific mission in mind, a gift certificate to Recycled Reads allows a teacher or organization to choose what works for them and we recycle the rest!
Wouldn't you make more money for the Austin Public Library if you charged more?
Recycled Reads receives such a high volume of books and media that they must be priced to move. This keeps our shelves stocked fresh with new-to-you books and media.
Do you sell any rare or collectible items?
In the store, you can find our collectibles in our Collectibles section, marked with bookmarks starting at $5. Items include academic, art and genealogical texts, as well as antique books, some dating back to the 1700s. As a rule, we price collectibles at least 20% below market value so you know you are getting a good deal and supporting the Library at the same time.
Upon seeing our book art displayed around the store: "Whoa, how did you do that to a book?"
Call it origami, call it sculpture, call it altered books... We call it upcycling! Books that are outdated, in poor shape, or just won't sell get crafted into something useful, fun and beautiful. But we don't stop at books! We love a good re-purposing challenge.
Do you take custom craft orders?
Yes. Please contact us to talk about what you have in mind!
I'd like to donate to the store.
Recycled Reads accepts donations during business hours up to 30 minutes before closing. (Noon-7:30 Thursdays and Noon-5:30 Friday, Saturday and Sunday). The bookstore accepts anything printed or recorded, except magazines as well as e-readers and tablets.
For the safety of our staff and volunteers, donated items should be in sturdy grocery bags or standard sized boxes that you do not mind parting with. If the quantity to be donated is more than 10 boxes, please call to make an appointment. This ensures we have the staff available to receive it. You can make an appointment by calling (512) 974-7460.
For security reasons, we cannot accept donations outside of days or times listed above, and we are not allowed to touch items left outside of our door. Small donations (two bags/small boxes) may also be taken to any of the Austin Public Library branches.
The Austin Public Library is a tax-exempt organization and donations are tax deductible to the extent the law allows. We are happy to provide you with a Deed of Gift form for tax purposes but in compliance with Internal Revenue Service Policy, assessment of value for non-cash contributions is the responsibility of the donor, not the recipient.
Will you buy my books?
Recycled Reads only accepts books and other media by donation in support of the Austin Public Library.
I know of an excellent cause. Would you consider donating books?
The Austin Public Library has a policy governing the disposition of surplus materials, called the Library Collection Materials Surplus Policy. The procedures listed in this policy are tied directly to the City of Austin's policy on disposal of surplus property.
Why are your hours so limited?
We depend on volunteers to help us sort, shelve, prepare the store for shoppers and provide customer service. Our hours reflect the availability of people willing to donate their time.