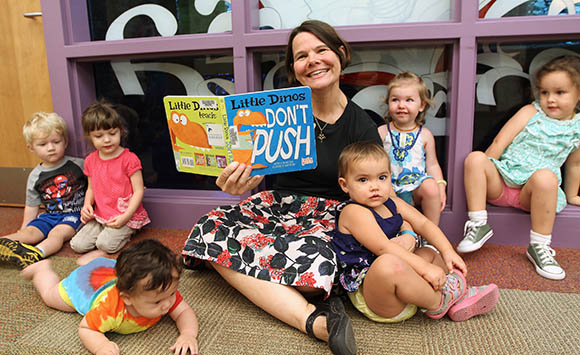 Youth Services includes children from birth to age 18 as well as their parents and caregivers. The Library offers storytimes, books, technology, events, and librarians specializing in youth services to help nurture a love of reading and learning. There are no overdue fees for any youth materials.
Teacher, Parent, and Caregiver Support
Support for Students
FREE tutoring and online homework help
FREE library cards for anyone living within Austin city limits
FREE library cards for AISD and Del Valle ISD students via your school (call us if you need student card info)
FREE computer use, Internet access, and study spaces at every library.

The Carver, Central, Manchaca, North Village, Ruiz, Southeast, St. John, Twin Oaks, University Hills, Willie Me Kirk, and Windsor Park branches have computer resources especially for kids age 10-18. Ask at your location for details.
Early Literacy (ages 0-4)
Storytimes designed to support developmental stages and in several languages
Literature Live! puppet shows for kids ages 3-8
Children's areas in every Library where caregivers and children can play, read, and grow
Independent Literacy (ages 5-12)
Teens (ages 13-18)