Travis County Courthouse South and East Elevations detail, September 12, 1929, Page Brothers
About the Architectural Archives
The Architectural Archives was formed in 1986 as the Sesquicentennial Project of the Austin Chapter of the American Institute of Architects. Architectural drawings, job files, photographs, and personal papers of various local architects comprise these archives.
One item of interest that we hold is the Page Brothers' ink on linen drawings of the 1930 Travis County Courthouse. Also in our architectural archives are the 1938 original drawings by Arthur Fehr of the First English Evangelical Lutheran Church. The Austin History Center houses many architectural drawings from the firm of Bell, Klein, and Hoffman, among them those for the restoration of the Neil-Cochran House and those for the restoration of St. Mary's Cathedral.  We also have drawings for a number of residential properties in Austin.
Over 150 architects and firms are represented in our collection, including:
Bell, Klein & Hoffman
Fehr & Granger
Winfred O. Gustafson
August Watkins Harris
Jessen, Jessen, Milhouse & Greeven
Kuehne, Brooks & Barr
Lundgren & Maurer
Page Southerland Page
Using the Architectural Archives
Architectural Archives items are accessed through a card catalog in our Reading Room and through an in-house database. Items must be viewed in our Reading Room.
Due to a lack of in-house copying facilities for oversize items such as architectural drawings, large-format reproductions are performed off-site. The Austin History Center charges a $40.00 plus tax fee for facilitating the order of the materials. Items are taken to Dynamic Reprographics for reproduction, with the charges to be paid by the requestor directly to Dynamic Reprographics. Turnaround time is dependent upon staff time and can be affected by inclement weather.
The Austin History Center reserves the right to deny copying of oversized materials if the item is deemed too fragile. All responsibility for possible copyright infringement arising from the use of reproductions must be assumed by the requestor. The work of active architects may require additional permissions from the creator before the order can be processed.
 Projects & Exhibits
Architectural Archives Oral History Project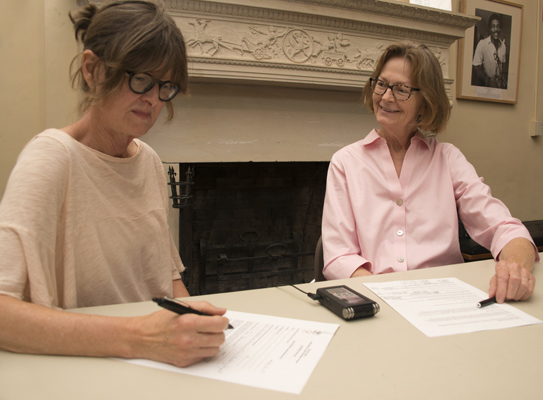 In 2015 the Austin History Center (AHC), with assistance from a grant from the Austin Foundation for Architecture, began conducting oral history interviews with Austin-area architects as one component of the AHC Architectural Archives' goal of preserving the city's architectural heritage. The objective of the oral history project is to capture information about the interviewee's experiences in the field of architecture, their contributions to Austin's history and built environment and their thoughts on the growth and development of Austin that they have witnessed during their lives. Learn more and listen to the oral histories.
This project is ongoing with the intention of conducting four to six interviews a year, so check back periodically for new stories!
Fehr and Granger: Austin Modernists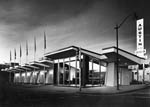 This online exhibit explores the work of mid-century modern architects Arthur Fehr and Charles Granger with photographs from the Austin History Center's collections. Photo at left: Austin National Bank Drive-In, AR-2009-014-171, Photograph by Dewey Mears.