Location & Hours
Wednesday:
10:00 am-6:00 pm
Thursday:
10:00 am-6:00 pm
Saturday:
10:00 am-6:00 pm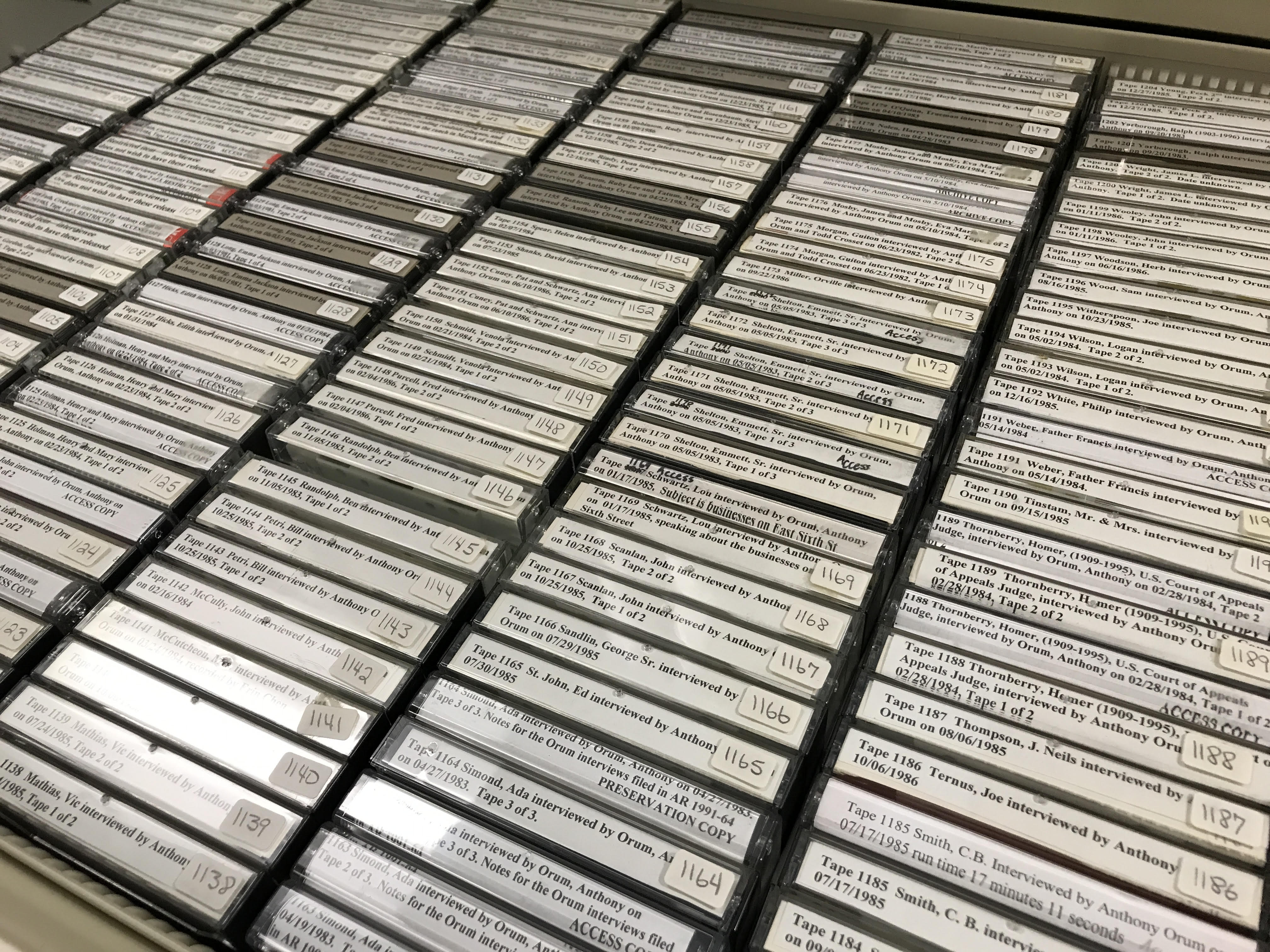 Audio cassette tapes at the Austin History Center.
Oral Histories and Recollections
Austin History Center staff, along with many dedicated volunteers, have made oral history recordings documenting the rich and colorful history of more than 400 local residents and public figures. This collection also includes audio tapes recorded during historical marker dedication ceremonies, as well as tapes of local radio interviews from the 1970s. In addition, researchers have donated interview tapes created during the course of studying Austin's history. Anthony Orum, for example, donated tapes he recorded in the process of writing his books, Power, Money and the People: the Making of Modern Austin and City Building in America.
Find some samples of our recordings online, including the only known recording of O. Henry. Our Soundcloud account also has excerpts from the oral histories of Joe Lung, Emma Long, and Lady Bird Johnson among others.
Transcripts exist for a number of these oral histories and are available for use in the Reading Room. Some of the tapes also lead to manuscripts and other archival resources in the collection. You can review the Oral History Subject Guide below to find oral history recordings on specific topics. Our staff can also consult an in-house database to determine whether we have an oral history for a specific person or on any topic not included in the guide or whether transcripts exist for the recording. Check out an example of a fully transcribed recording below as well. Please contact us to ask for this search.
One of our larger oral history projects was the Emma S. Barrientos Mexican American Cultural Center Oral History Project. Read more about it and listen to some excerpts.
Music
Even before Austin declared itself the "Live Music Capital of the World," the Austin History Center began collecting and preserving examples of music from the local scene. Included in the sound recording collection are the recordings of artists such as Kenneth Threadgill, Joe Ely, the Grey Ghost, the Fabulous Thunderbirds, Uranium Savages, and Stevie Ray Vaughan. Recordings produced by local groups such as the Ebenezer Baptist Church Choir and Crockett High School are available in the music collection. Music recordings can be searched in the Austin Public Library Catalog.
The Austin Music Network
The Austin Music Network began documenting live performances in clubs and venues around Austin in 1994. The Archives of the Austin Music Network are now part of the Austin History Center collection. Music & Entertainment Television, launched by Austin Music Partners, took over the channel in 2005, and many of their shows are available at the Austin History Center.