Cleaning Stones and Sowing Seeds
Clearing Stones, Sowing Seeds: Photographs from the Travis County Negro Extension Service
On view in the David Earl Holt Gallery, February 6, 2018-April 15, 2018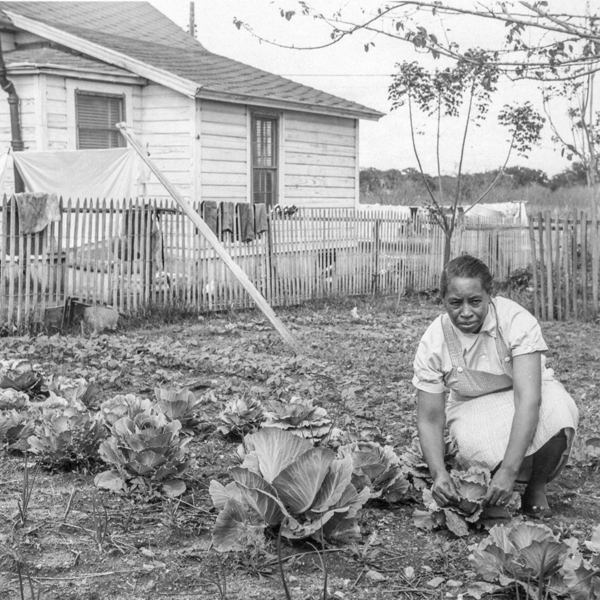 AR.2000.025-312
With the passage of the Smith-Laver Act in 1914, agricultural extension services across the country opened with the purpose "to aid in diffusing among the people . . . useful and practical information on subjects relating to agriculture and home economics, and to encourage the application of the same." Extension services in Texas began in 1915 when the Texas Legislature assigned administration of the Texas Agricultural Extension to Texas A&M University, establishing the Cooperative Extension Program through Prairie View A&M. As part of this program, the Travis County Negro Extension Service (TCNES) served as the link between Prairie View A&M and Travis County's black residents.
In the early years of the agency, programs included farm and home demonstrations. Farm demonstrations provided information about crop and livestock production and marketing, including how to plant an orchard, slaughter a hog, and feed and manage dairy cows. Home demonstrations included proper canning techniques and home repairs. To inspire increased community food production and conservation, TCNES, along with the Austin Chamber of Commerce, sponsored the first annual Travis County Victory Food and Livestock show in 1944. Through 4-H clubs TCNES provided activities for young people to teach them agricultural technology as well as leadership and civic skills.
The TCNES was a model of progressive rural, Black-led reform but was also a purposeful product of the Jim Crow South designed to maintain segregated services. Desegregation meant there was no longer a need for duplicate services. Needs have changed since then, but the two land grant universities continue to administer programs. Prairie View A&M continues to oversee what was the TCNES, now called the Cooperative Extension Program.
The exhibit Clearing Stones and Sowing Seeds presents selections from the Travis County Negro Extension Service Photography Collection (AR.2000.025). The collection, numbering over 600 photographs taken between 1940 and 1964, documents the variety of services offered by the TCNES, including animal husbandry, crafts, domestic education, gardening and agriculture, and home improvement. The photographs were almost lost. They were rescued by the AHC's first African American Community Archivist Karen Riles, preserving an important resource documenting African American rural life in the age of Jim Crow. This is the first exhibition of these images.
Visitors can see more of the photographs by visiting the Austin History Center. The entire collection is available for viewing any time during the Center's open hours: Tuesday-Saturday, 10-6 and Sunday 12-6. An inventory of the collection is available online. Also, 267 images from the collection have been digitized and are available online as well. 
Click on the thumbnails below to see some sample images from the exhibit.