Location & Hours
Wednesday:
10:00 am-6:00 pm
Thursday:
10:00 am-6:00 pm
Saturday:
10:00 am-6:00 pm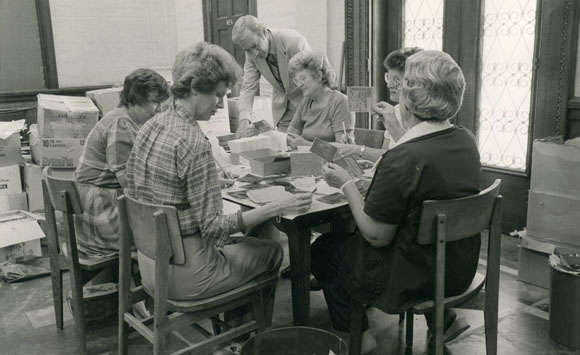 [Volunteers Salvaging Bill Malone's Photographs], circa 1981, PICA 28151 detail
Preserving family photographs, personal papers, and other precious materials provides a valuable legacy for future generations. Many of the methods and materials traditionally used to store and display these heirlooms, however, can cause them to deteriorate and fade before their time. Follow these guidelines to keep your family memories vivid.
Do
Store precious materials in a stable environment, below 75 degrees Fahrenheit and 50% humidity. Keep the temperature and humidity constant.
Protect materials with acid-free boxes, sleeves, and folders.
Mount items on acid-free paper using archivally safe mounts.
Copy newspaper articles onto acid-free paper.
Interleave acidic items, such as newsprint, with buffered tissue.
Use only PVC-free page protectors such as polypropylene or polyester.
Use adhesives such as wheat starch paste or methyl cellulose.
Identify and date each item directly on the item itself; identify each person in photographs.
Use soft pencils and use only acid-free matting material and a window mat to hold photos and drawings away from glass.
Provide acid-free supports behind large or brittle photos.
Unfold or unroll items flat for storage (generally).
Don't
Don't expose materials to unnecessary light.
Don't store precious materials in the attic, the basement, or hot or damp spaces.
Don't store precious materials in wood boxes or cabinets or cardboard shoe boxes.
Don't use 'magnetic' pages in albums.
Don't use tape of any kind (masking, transparent, or removable) or rubber cement.
Don't use staples, ordinary paper clips, straight pins, or rubber bands.
Don't use ballpoint pens for marking.
Don't write on paper that rests on top of precious books, photos, or documents.
Don't press a book's spine to force it completely open when reading or copying.
Don't touch the image side of a photo or the emulsion (dull) side of a negative.
Take a look at these handouts for more detailed advice on preservation:
For more information consult the Austin History Center's links to preservation sites or get involved with a local preservation group.