Location & Hours
Wednesday:
10:00 am-6:00 pm
Thursday:
10:00 am-6:00 pm
Saturday:
10:00 am-6:00 pm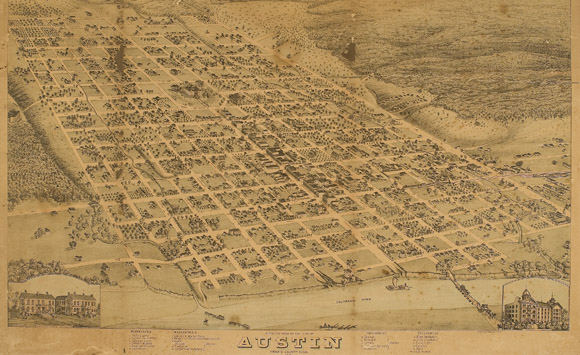 Bird's Eye View of the City of Austin [detail], 1873, Map L-20
The Austin History Center has more than one thousand maps of Austin and Travis County from the mid-1800s to the present. These maps illustrate the City's changing size and shape over the years and offer invaluable clues to the history of structures and landmarks long since gone from our landscape. Use the Map Guide to review an index of our collection and to search for a specific map.
Maps in the collection include:
Bird's-eye view maps
Sanborn Fire Insurance maps from 1885 to the 1970s. Some Sanborn Maps are available from the APL's Virtual Library. Texas Digital Sanborn Maps is made available through the TexShare program, and you will need an Austin Public Library card to access it from your home computer.
Aerial photographs from the 1940s to 1989
Travis County Highway Maps (Texas County Highway Maps are available online, for some years, from the University of Texas.)
Plats, abstract maps and neighborhood plats
Cemetery maps
Austin street maps
City of Austin Use maps
Topographic and geologic maps of Austin and Travis County
The Perry-Castañeda Library at the University of Texas has a number of Austin area maps available online in its Map Collection.
The AHC created this map of Austin's Freedmen Communities. The map, using a historic map from the collection as the base map and information gathered from multiple sources, shows the locations and approximate boundaries of the various freemen communities that sprang up after the Civil War.
Duplicating Maps
Due to a lack of in-house copying facilities for oversize items such as maps, large-format reproductions are performed off-site. The Austin History Center charges a $40.00 plus tax fee for facilitating the order of the materials. Items are taken to Dynamic Reprographics for reproduction, with the charges to be paid by the requestor directly to Dynamic Reprographics. Turnaround time is dependent upon staff time and can be affected by inclement weather.
The Austin History Center reserves the right to deny copying of oversized material if the item is deemed too fragile. All responsibility for possible copyright infringement arising from the use of reproductions must be assumed by the requestor. Current maps that are clearly protected by copyright are not eligible for oversize duplication.