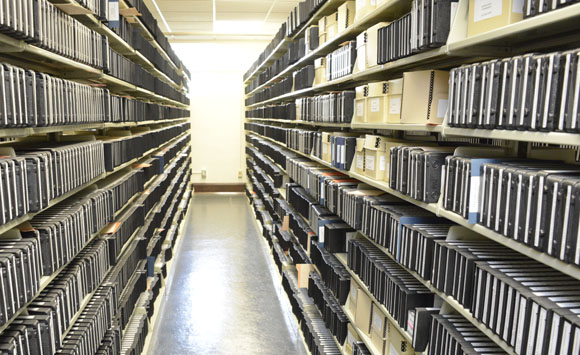 AHC Video Collection stacks
Government Videos
Videos from Channel 6 or ATXN, the City of Austin government access channel, are preserved here. These recordings include City Council meetings from 1984 through the present and other government board and commission meeting recordings, such as the Parks and Recreation Board, the Planning Commission, the Charter Revision Committee, the Mayor's Committee for People with Disabilities, and the Telecommunications Commission. A full inventory of the Channel 6/ATXN recordings can be viewed here. Equipment is available for self-service duplication; just bring your own DVD-R. Alternatively, we can sell you one in our Reading Room for $3 plus tax.
Local News Broadcasts
Video recordings of television news from each of four local network affiliates--ABC, CBS, Fox, and NBC--are preserved here. These video recordings span the time period of April 1, 1984 to December 31, 2013. Videos from April 1, 1984 to September 30, 2004 are available on VHS tapes; videos from October 1, 2004 to December 31, 2013 are available on DVD. Logbooks listing the stories from the local broadcasts (up to December 2011) are available on request. Keyword searches of the newer broadcasts can done from a link on the two public access computers in the Reading Room.
Productions Concerning our Local Community
Our collection also includes video recordings produced by government agencies and nonprofit groups to inform the public. We have, for instance, videos produced by the local Police Department and Bat Conservation International. In addition, the collection contains videos produced for pure entertainment by local individuals or groups. All of these videos produced to educate or entertain are listed on the Austin Public Library's online catalog (use the search bar at the top of this page).
Duplication
Upcoming change in services due to October closure: Starting on Monday, September 18th, and until October 23rd, we will not be accepting reproduction requests. Please plan accordingly.
The Austin History Center offers duplication on some, but not all, of our audio and video items for a fee. Duplications are considered on a case-by-case basis and are handled through the same operation as our photographic reproductions. Contact our audiovisual archivist for more details.
YouTube
Visit and subscribe to our YouTube channel to see clips of videos from some of our collections.