Primary Suffrage in Texas
 Primary Suffrage in Texas
In Texas, the struggle for woman suffrage was carried out amidst the political turmoil of the Ferguson era. Governor James E. Ferguson, whom suffragists viewed as th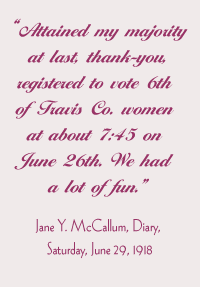 e "implacable foe of woman suffrage and of every great moral issue for which women stood," was inaugurated on January 12, 1915. After a bitter controversy involving Ferguson's efforts to control the University of Texas' faculty, finances, and Board of Regents, the Texas Senate voted to impeach Ferguson in September of 1917.
In one-party states such as Texas, voters in primary elections essentially had a voice in the election of candidates. Primary suffrage was also easier to obtain, requiring simple majorities in the House and Senate and the approval of the governor. In contrast, full woman suffrage necessitated amending the state constitution, thereby requiring a two-thirds majority in both houses of the state legislature, as well as voter approval.
At its January 1918 board meeting the Texas Equal Suffrage Association took action. William P. Hobby, who had assumed the governorship upon Ferguson's departure, was asked to submit the primary suffrage bill at a special legislative session scheduled to convene February 26 to consider prohibition. In return, the group promised to "use its influence and organization to assist him in his camp[aign] for Gov[ernor]."
The primary suffrage bill, introduced by San Angelo representative Charles B. Metcalfe, passed both the House and Senate and was signed into law by Hobby on March 26, 1918. The law went into effect only seventeen days before the July 27th primary and a highly publicized registration drive that opened on June 26. In Travis County, 5,856 women were registered -- a number almost equal to the expected number of male voters
Austin Suffrage Association | The Early Years | Primary Suffrage in Texas | Road to Ratification | Ratified and Released